The Hosts
The German Vexillological Society has been the general forum for vexillologists in this country since its founding in 1995. Its journal "Der Flaggenkurier" led the way in making colour part of its vexillological publications.
More than 100 individual members, companies, and associations participate in all fields of vexillological collecting and research.
(For further Information please see the DGF-homepage: http://www.flaggenkunde.de)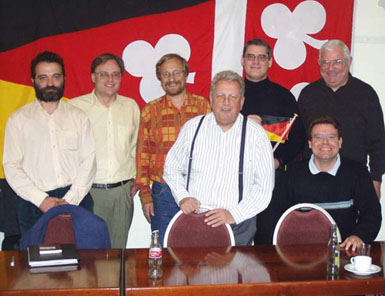 The Board of the German Vexillological Society (photo: Gunnar Staack)
The German Historical Museum was founded in 1987 by the Federal Republic of Germany and the state of Berlin. Its home is the Berlin Zeughaus, the oldest building on the Boulevard "Unter den Linden" and one of the most beautiful baroque-style buildings in Northern Germany.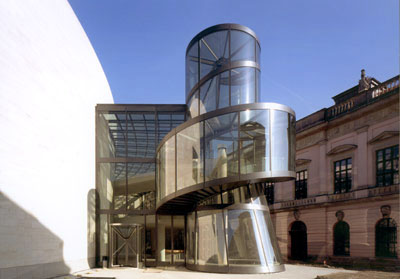 The Berlin Zeughaus (The Berlin Arsenal) and Pei Annex (photo: DHM)


Contacts
ORGANIZING COMMITTEE OF THE 22.ICV "FLAG-BERLIN 2007"
c/o GERD VEHRES
ANDREASSTRASSE 33
10243 BERLIN , GERMANY
EMAIL: g_vehres@yahoo.de
WEB HOMEPAGE: http://www.flagberlin2007.de
For further information about the German Historical Museum:
DEUTSCHES HISTORISCHES MUSEUM
( GERMAN HISTORICAL MUSEUM )
UNTER DEN LINDEN 2
10117 BERLIN , GERMANY
WEB HOMEPAGE: http://www.dhm.de