Invitation
The German Vexillological Society and the German Historical Museum cordially invite you to take part in the 22nd International Vexillological Congress: "FlagBerlin 2007". The Congress will meet in the capital of reunited Germany for the first time, August 6th to August 10th, 2007.
Dr. Andreas Herzfeld
1. Chairman of the
German Vexillological Society
Prof. Dr. Hans Ottomeyer
Director General of the
German Historical Museum
Ambassador (ret.) Gerd Vehres
German Vexillological Society,
President of the Organizing Committee for "FlagBerlin 2007"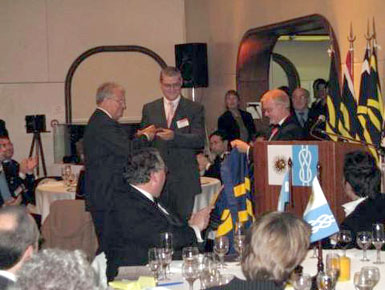 21 ICV 2005 (05-VIII-2005): During the closing banquet FIAV President Michel Lupant handed the FIAV gavel and flag to the hosts of the 2007 congress the Deutschen Gesellschaft für Flaggenkunde represented by Gerd Vehres and Andreas Herzfeld.
(photo: Jan Oskar Engene)


Contacts
ORGANIZING COMMITTEE OF THE 22.ICV "FLAG-BERLIN 2007"
c/o GERD VEHRES
ANDREASSTRASSE 33
10243 BERLIN , GERMANY
EMAIL: g_vehres@yahoo.de
WEB HOMEPAGE: http://www.flagberlin2007.de
For further information about the German Historical Museum:
DEUTSCHES HISTORISCHES MUSEUM
( GERMAN HISTORICAL MUSEUM )
UNTER DEN LINDEN 2
10117 BERLIN , GERMANY
WEB HOMEPAGE: http://www.dhm.de