Congress Venue
Berlin, the Capital of reunited Germany, is situated in the very heart of Europe and forms a connecting link between the East and the West. Vexillologists from all over the world will meet here in a metropolis which is historic and at the same time very lively.
The Congress venue will be the "Berlin Zeughaus" (Berlin Arsenal), the home of the German Historical Museum, which holds a very comprehensive collection of several thousand historical flags and banners.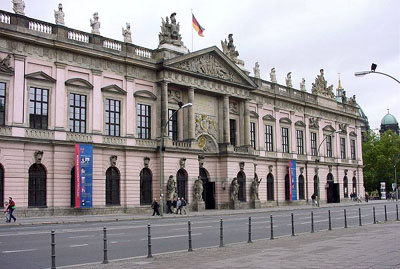 The Congress will take place in the "Zeughauskino", the modern furnished cinema of the Museum.
In April 2006 the German Historical Museum opened its new permanent exhibition "German History in Pictures and Relics of the Past", with many flags and banners on display.
During the Congress, participants will have an opportunity to view and exchange vexillogical materials.
Address:
Unter den Linden 2, 10177 Berlin, Germany (Link to Berlin city map)


Contacts
ORGANIZING COMMITTEE OF THE 22.ICV "FLAG-BERLIN 2007"
c/o GERD VEHRES
ANDREASSTRASSE 33
10243 BERLIN , GERMANY
EMAIL: g_vehres@yahoo.de
WEB HOMEPAGE: http://www.flagberlin2007.de
For further information about the German Historical Museum:
DEUTSCHES HISTORISCHES MUSEUM
( GERMAN HISTORICAL MUSEUM )
UNTER DEN LINDEN 2
10117 BERLIN , GERMANY
WEB HOMEPAGE: http://www.dhm.de